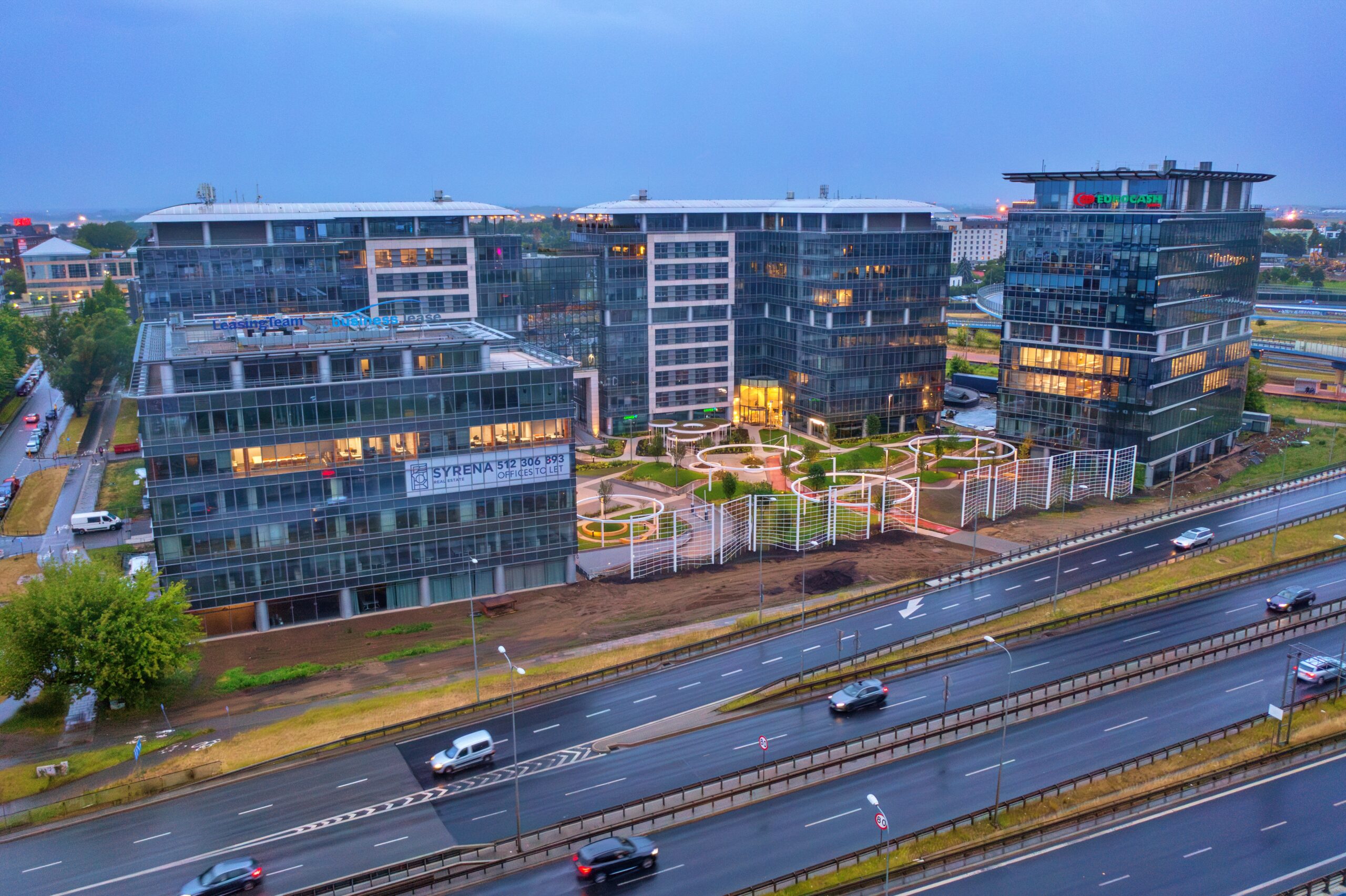 3,000 Square Meters Leased at the Diuna
Syrena Real Estate has signed leases for nearly 3,000 sq. m of office space in the Diuna complex (formerly Marynarska Business Park) under its management in Warsaw's Służewiec district. Two existing tenants, Business Lease Poland and LeasingTeam Group, have extended their leases for office space, while Daikin has more than doubled its space in the complex on Taśmowa Street.
The Diuna is one of the largest modernisations currently underway in Poland. The office complex in Warsaw's Służewiec district is undergoing a metamorphosis. The most impressive changes include the revitalisation of the outdoor area, which has been transformed from a 6,000 sq. m concrete car park into a public park with 50 trees and 98 species of shrubs featuring a stream and an educational pavilion. The entrance lobbies of the four buildings have been upgraded and sport a new look. A co-working space has been added, as well as a conference centre with a meeting room and a fitness room. The complex has a new bike area with full infrastructure for cyclists. The functionality and technical performance of the building systems has been improved, which will significantly reduce energy consumption. Syrena Real Estate is responsible for the project in collaboration with the investor PineBridge Benson Elliot.
The metamorphosis of the complex has been appreciated by tenants. Three companies with offices at the Diuna have decided to extend their leases. Business Lease Poland, which uses over 610 sq. m in the complex, is a thriving leasing company offering mobility support including operating leases, short-term leases, and fleet management support. Business Lease Poland serves both international clients and domestic small and medium-sized businesses. The company has been present on the Polish market since 2001.
LeasingTeam Group has leased nearly 1,100 sq. m of office space at the Diuna. LeasingTeam Group is the largest group of personnel consulting companies in Poland exclusively with Polish capital. GK LeasingTeam implements strategic projects in human resources management for Polish and global corporations, medium-sized companies, and public organisations. GK LeasingTeam specialises in employee recruitment, temporary work, outsourcing of processes and functions, outsourcing of IT personnel, optimisation of human resources management, cross-border posting of employees, and recruitment of employees in Eastern Europe for its clients. LeasingTeam provides services in Poland through a network of branches and representations and operates in Germany and the Czech Republic, posting nearly 10,000 employees each month. GK LeasingTeam has developed a proprietary digital platform TalentPoint, which facilitates the work of HR departments and streamlines formal procedures for employees.
The third tenant that has decided to extend its lease at the Diuna is Daikin Europe Business Support (DEBS). The company is part of DAIKIN EUROPE N.V., the European headquarters of the Japanese corporation DAIKIN INDUSTRIES Ltd., a leading manufacturer of air conditioning, ventilation, heating and cooling solutions, and a global brand since 1924. Daikin Europe Business Support (DEBS) has been based at the Diuna since 2018. The Warsaw branch has expanded its initial team of 20 to as many as 90 specialists. The company, which previously occupied 570 sq. m, has not only signed a new lease with Syrena Real Estate but doubled its floor space to almost 1,200 sq. m in view of an almost fivefold increase in employment. In cooperation with the facility manager, it has refitted its office space to bring it up to current standards of comfortable ergonomic working conditions.
Tenant after tenant put their trust in the Diuna and see the future of their business in our complex. We are delighted with the renewed leases, which confirm that our great project, the thorough modernisation of the entire complex, is appreciated by our tenants. Since we started the revitalisation, all existing tenants have renewed their office space leases. The commercialisation of the Diuna is progressing and we are negotiating with new clients, who we hope will soon join the project's tenant portfolio.

– said Ewa Lubańska, Leasing Manager at Syrena Real Estate.
The Diuna (formerly Marynarska Business Park) comprises four office buildings with a total usable area of 46,000 sq. m. Companies based here include: Accord, NewCold, Colgate, Eurocash, Ford, JDE, Oceanic, S.C Johnson, Sitel, and WDX. The complex also houses a LUX MED outpatient clinic and a Gorąco Polecam café. The Diuna offers 1,300 parking spaces for cars and 120 spaces for bicycles in the underground car park and in the new courtyard. The upgrade has been designed by the architectural studio MJZ. Łoskiewicz Studio is responsible for the design of the common areas of the complex's four lobbies and the new visual identity. Reesco Group is responsible for the redevelopment, and cmT Group for project management.
The complex holds a WELL Health & Safety Rating and WIREDSCORE certification at Silver level. Following the completed upgrade, the Diuna will apply for Breeam In-Use certification under the new v6 system. A team of experts from JW+A is advising on the project's certification process. The developer is cooperating with the Integration Foundation in order to best adapt the project to the needs of people with disabilities.